Following on from his successful 'Live Innit' tour, which included a sold-out show at Wembley Arena, comedian Paul Chowdhry spoke with host Tim Lovejoy as part of Movember's new In The Barber Chair podcast series.

The 45-year-old revealed how a difficult childhood shaped a career making people laugh.

After losing his mother when he was four, Chowdhry endured years of racial abuse growing up in London in the 1980s.

He told Lovejoy: "I lost my mum when I was four years old, and I didn't cry. You don't quite understand it at the time. I wonder if that pushed me to keep my emotions pent up.

"When you start to get older, you begin to understand it. I didn't have anyone to talk to about it. My siblings are older, so they understood it more. I saw things I probably shouldn't have seen at such a young age.

"Growing up, England was a very different place. Racial slurs were thrown about in the street. Walking home from school, you were lucky if you didn't get into a fight. My Dad was involved in a racist attack, he took 50 stitches to the face. I've been in similar situations.

"When I talk about those things on stage now, I try to use those experiences to help people."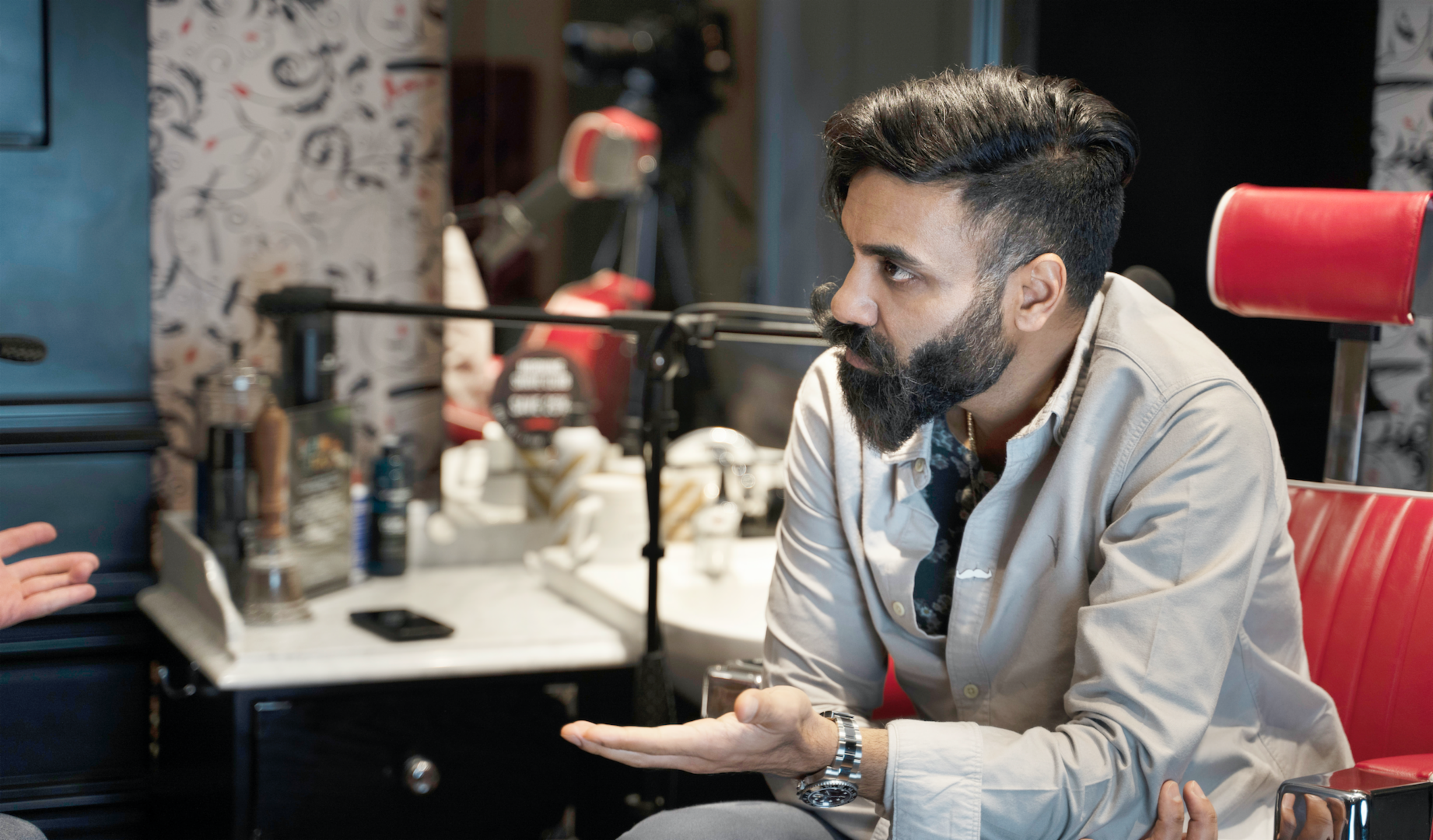 Mental health makes up a large portion of conversation in Chowdhry's most recent live show.

"What I talk about in my show is 'what happened to sadness?'," he said. "Nowdays you're either happy or depressed, so I wonder if that's having more of a detrimental effect?

"Mental health is a very big topic. It's not just depression, it's happiness, sadness, it's all different moods we all have.

"With social media, people think everyone is happy all the time now – no one puts a picture up of them depressed, and when they do people think they're doing it for likes."

Chowdhry also debunked the common myth that all comedians are "a barrel of laughs" off stage.

He said: "This stuff comes from darkness. This stuff comes from pain. This stuff comes from solitude.

"To a certain degree, comics are loners. It's years of solitude and solitary confinement in your own head which creates the material.

"Comedy is almost a calling for comics. It's something you need to do. If I wasn't getting paid for comedy, I'd still be doing it.

"When I started being myself on stage, bigger audiences started to come. I was somebody they could relate to. Speaking about mental health issues on stage, they could see a part of themselves in me."

Chowdhry has used his own experience dealing with periods of being low to help break down the stigma in the Asian community, broaching a topic which is rarely talked about.

He said: "Mental health isn't a thing which was discussed within certain communities. The fact that I've discussed it with my audience did have quite a strong effect.

"[As an Asian man] You have to abide by certain regulations, like getting married at a certain age, having your degree by a certain age, having kids by a certain age. I've not really done any of those, but I think that probably helps people."

"Previously, [mental health] wasn't something you'd talk to your mates about. Women talk about their emotions, but men keep it pent up. Men are opening up more nowadays, but we could still take a leaf from the female handbook."

Set in a barber's shop, the Movember podcast brings listeners real cuts and real conversations about what it means to be a man today.

Each episode sees host Tim Lovejoy hold open and honest conversations with celebrity guests, including 31-year-old YouTuber Jim Chapman.

Recorded at Ted's Grooming Room in London, the first episode featured actor and comedian Ben Miller.

Episodes of In The Barber Chair are available with all major podcast outlets.