2016 Financials: Coming Soon
Movember returned in 2016 for another month of hairy deeds. Our financial year ends in April, and after that we undergo an independent auditing process. Our annual report and financial information from Movember 2016 will be published when the audit is complete, in September.
---
2015 UK Financial Snapshot
£6.8 million raised for Movember 2015 in the UK.
71% of funds raised allocated to men's health programs.
In 2015, Mo Bros and Mo Sistas from across the UK helped us raise £6.8 Million for the Movember Foundation.
These donations allow us to raise awareness, invest in vital men's health initiatives and run Movember each year. We're tackling some of the biggest issues affecting men: prostate cancer, testicular cancer, and poor mental health and suicide prevention
We distribute funds to a broad range of programs and to trusted men's health partners.
In the UK our programme partners are the Prostate Cancer UK and the Institute of Cancer Research. These partners, along with Movember Foundation managed programmes, ensure that donations support a broad range of innovative, world-class initiatives.
All funds distributed to our men's health partners are restricted to use in Movember Foundation approved programmes only. This means that no funds are used to cover any of our partners' fundraising and promotional costs – 100% goes directly to delivering health initiatives.
The work we fund
We keep costs down so donations go where they're needed most.
In 2015 our UK fundraising and admin costs totalled 29%.
In other words, 71% of all UK funds raised have been devoted to helping men live happier, healthier and longer lives.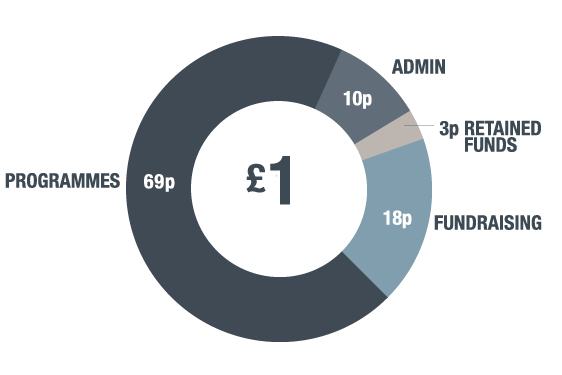 Costs that fall under fundraising and admin include:
Credit card processing fees
Systems development and technology to process donations securely
Bank fees
Legal costs
Salaries for admin support staff
Telecommunications and computer equipment
Insurance
Office rent and maintenance costs
Travel
2015 Global Financial Snapshot
21 countries
485,720 Mo Bros & Mo Sistas

£41.2 million raised for men's health
In 2015 the Movember community championed men's health in 21 countries across the world. Through the growth of more than half a million moustaches we raised £41.2 million.
Our focus on costs and economy of scale has resulted in a global cost-to-funds-raised ratio of 20.8%.
As a fiscally conservative organisation Movember retains a small percentage of funds to cover future campaigns and to ensure the long-term continuity of the organisation. The retained funds are being progressively built up over multiple campaigns, and once the Board of Directors are satisfied they are at a sufficient level, no further funds will be retained.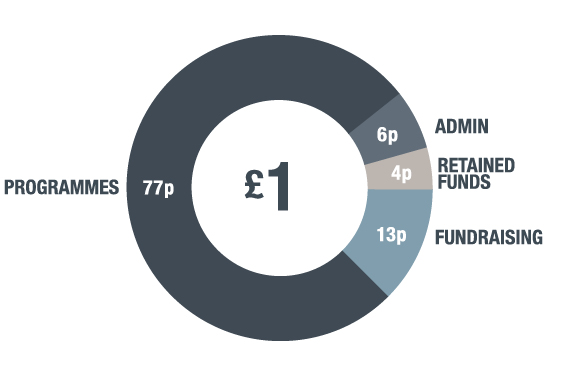 Global Annual Reports
Throughout our history we've stayed committed to high levels of efficiency, transparency and accountability. Each September we publish an annual report detailing the previous year's campaign, financials and outcomes.
Read our Global Annual Reports