Rock a mo to win an exclusive signed Movember Edition Marshall Amplification half stack
The mo has long been a mark of greatness in the world of rock from the Beatles, Hendrix, Lemmy, Frank Zappa to Jesse Hughes' Eagles of Death Metal. Now, together with Marshall Amplification, we're celebrating this by starting the search for a new generation of moustachioed musicians.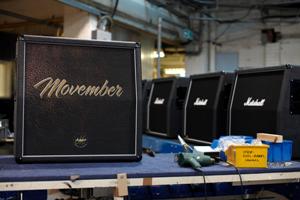 So, rock out with your mo and send us the video - the most creative and talented Citizen of Movember will win a special edition JCM2000 Movember half stack, signed by Jim Marshall.
Check out the making of the Movember amps on the production line here
http://www.youtube.com/user/MovemberUK?feature=mhum#p/a/u/0/_K--AztqSV8
Entering is easy. For your chance to win,
1. Video yourself and your mo or mo bros rocking out for no more than 2 minutes
2. Upload it to a video hosting website, such as YouTube
3. Email us the link together with your name, e-mail address, telephone number and Movember registration number to
marshallcomp@movember.com
by 3 December 2010
4. The winner will be chosen by Marshall Amplication and Movember on Friday 10 December 2010
Terms and conditions apply. Click
HERE