As we close the lid on another memorable Movember campaign, here is one final glimpse at the genius and passion of the Mo community, in all their hairy fundraising glory. We genuinely couldn't do it without you.

Alice Dorrington
The No.1 Mo Sista in the UK this year has gone above and beyond to keep the memory of her hero, her Dad, alive who sadly lost the battle against prostate cancer last year.
In Alice's own words "What has given me the greatest strength this past month, is the vast range of individuals who have been so kind as to get involved in this year's campaign. I have rekindled friendships, received copious messages of the most lovely and supportive words, had two friends, who unfortunately never met Dad, grow Mo's in his name, met people for the first time who knew my Dad long before I did, heard new stories about him, seen unseen photographs, - and you know what, generally felt that we have revived Dad's name and kept him alive for a little longer. Movember allows me to introduce Dad to people again, to introduce his spirit, his legacy, his story, and it is my great hope that by doing this and by raising awareness and funds we may prolong the life of even one man. That is the ultimate dream".
She raised over £2,000 by way of social media nominations and her annual Mo Poker night which raised over £300. She wrote a blurb explaining the fact that on average, men live 5 years less than their female counterpart, and that after losing her Dad, her Grandad and her Godfather within the same year, she was not prepared to lose another male any time soon. Alice, then asked all of her Facebook friends to upload a picture of a bloke that they wanted to stick around for those five extra years, explaining a little about just why they wanted to keep them in their life...I then asked them to donate £1 for every year (£5 total) and nominate 5 of their friends to do the same.
Amazing work from an amazing
Mo Sista
.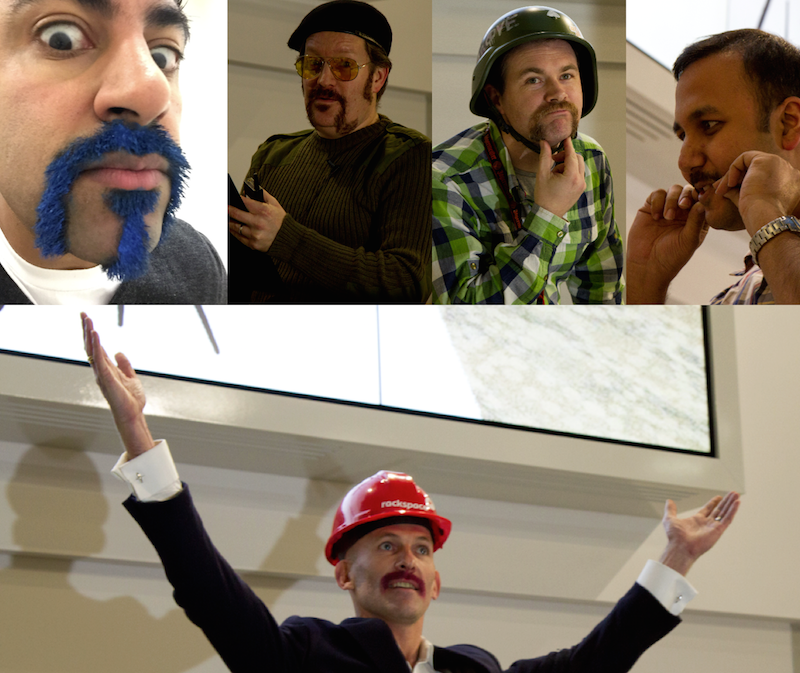 Rack Space
The "Rackers" at Rackspace's Movember journey started long ago in a Movember galaxy far, far away. With Mo Bro Matthew Johns at the helm for his 10th year, the team took their hairy motivation from the soon-to-be-released Star Wars film and set up the global "Stache Wars - The Mo Awakens" network. With some fantastic MOVE events, film nights and fundraising events happening around the world throughout the month, the team managed to beat their 2014 fund raising total. The force was strong with them this year.
Take a look at some of the Mo Bro's parading their efforts at the Mo judging in the UK office. HR Director Angus Jenkins took the Man of Movember title with his first ever Mo! One to watch for the future and made all the more remarkable following his own health battle this year.
Global Rackers we salute you. Check out their fine work
here
.




Accessible Retail Christmas Lunch
Accessible Retail organise and run networking opportunities throughout the year, donating significant sums to charities. When some of the members suggested they support Movember after they and others close to them were affected by prostate cancer, they decided to encourage their members to grow to raise funds and awareness for men's health. Their Christmas lunch at the beginning of December in Westminster Park Plaza raised thousands for Movember (as well as the awesome charity, Variety) and also featured a Mo judging competition. It was overseen by comedian Marcus Brigstocke who has grown his own, impressive Mo. There was also a raffle and silent auction - our Mo Bros were blown away by the festive generosity of everyone there. A huge thanks to everyone who was involved in organising an awesome event!
Take a look at their
hairy work
.


Burger and Lobster
Burger and Lobster doubled the amount of funds raised for 2015, in line with their expansion from seven to eleven UK restaurants. An amazing 50p came back from every burger sold across all restaurants up and down the country, helping push their fundraising to a whopping £23,664! Fantastic.
Burger and Lobster produced Point of Sale material around the offer, encouraged male staff to grow and also fielded a team in the successful dodgeball tournament. Top effort from the foodie fellows!
Sneak a peak at their hard work
here
.